Play Kalooki 40 - For Free
Our thriving Kalooki 40community enjoys the ultimate software available online! The game platform offers a variety of game types (quick games, single table tournaments, multi table tournaments) in different play modes - for realmoney or for free. You can also play Kalooki 40 for free and win some real money cash prizes!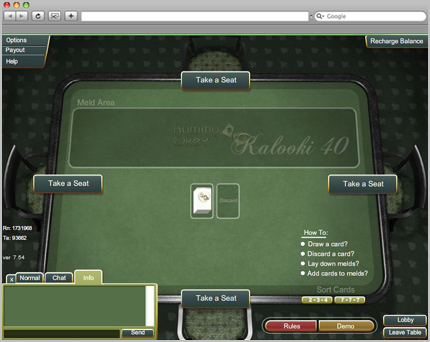 Download for Free and play for Free!
Anyone who wishes to play free Kalooki 40 online can download our software and install it in less than one minute -no strings attached! After installing the software you are invited to familiarize yourself with the games, watch our useful demos and hone your skills while playing free Kalooki 40 games in "Practice Mode" for as long as you would like - for free.
Kalooki 40 and Other Variations
We offer a variety of game types inside our game room and game variations. If you like Kalooki 40 you will love our Kalooki 51 version and many others. At RummyRoyal youcan play free kalooki 40 quick games of 1-3 rounds each, Kalooki 40 Single Table Tourneys - an elimination tourney in which up to 4 players take part and the last player to stay at the table wins the prize, and of course - our daily $10multi-table tourneys offered for free for all practice mode playerstwice a day.
Multi-Lingual Platform
That'snot it; today at RummyRoyal you can play Kalooki 40 for free in over 10languages! That's right, once you download our free software and install it in less than a few minutes, you can click on any of the flagsthat appear in the lobby and quickly start playing in the languages youwant.
Joining RummyRoyal
Become aRummyRoyal member today by creating your very own Rummy account for free. After you master the games, learn about your own favorite version and make lifetime long friendships via the friendly chat features, you could make your first deposit and start turning all that skill you've accumulated into real cash prizes that we offer our depositing communityof players!