Play Free Rummy Today!
Rummy is not a single game but rather a group of games with a similar structure and scoring system in common. There are many different variations all over the world, and different names for the games in each geographical region. For example, the most well known rummy variant in the US is Gin Rummy, and this variant has also many sub variants including Gin Oklahoma which we also offer here for free. In France, this family of games is well known under the name of "Rami" and in Italy they are called "Ramino" or "Scala Quaranta".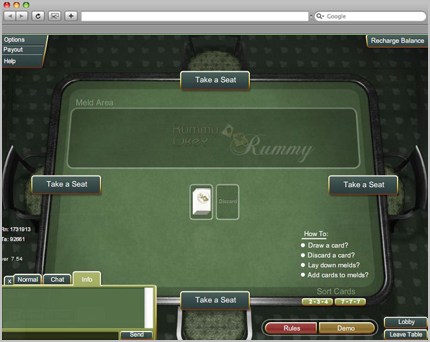 We at Offsidebet understand that in each country, or perhaps in each language the names and the terms may vary and so we offer our free rummy software and sites in over 10 languages, for you to spot the one that you know, in the language you natively speak. You can click on any of the flags at the top of this page, or inside the application that you download, in order to see the relevant language.
So what are you waiting for?
The free Rummy application is available to anyone at any time. After downloading and installing it (a short and simple process in which all you need to do is simply follow the instructions), you can choose between playing for real money or playing for free by using special practice money. There's no time limit, so you can play without making a deposit for as long as you want.
Everyone can download our game for free. You can practice and get to know the software without risking funds, and only when you feel that you know what to do with your cards and ready for some real action you can deposit and compete for many attractive prizes, exclusively for depositing members!
To start playing free rummy in no time, you can review the Rummy rules swiftly, view our helpful demo and learn to play in a couple of minutes! After playing several rounds in our practice mode you will get the hang of it and start working on your own personal strategy towards winning a lot of money!