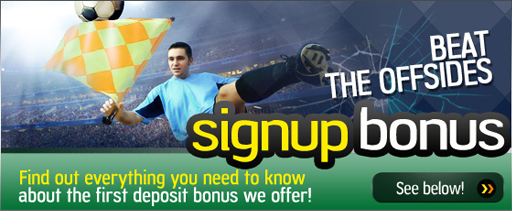 Beat the offsides and get a €25 sign up bonus with no rollover conditions. Simply collect 500 OffsidePoints and claim your freebet. Each time you place a bet with us, you receive OffsidePoints automatically:
€1 wagered = 1 OffsidePoint
Don't forget there are 3 more sportsbook bonuses available!
So, don't waste time and start your journey with Offsidebet. Cause the sky is the limit!
Terms and conditions:
1. All stakes from all your bets get accumulated until you gather 500 OffsidePoints - equal to €500 (or currency equivalent) in sportsbook turnover. You can then claim the freebet.
2. A maximum of €50 from each bet counts for the wagering. Bets with stakes larger than €50 will get 50 OffsidePoints. Placing several bets on the same event bring a maximum of 50 OffsidePoints per event, regardless of the number of bets placed.
3. Freebets can be claimed by email (at csd@offsidebet.com) or by livechat. You can ask about the amount of OffsidePoints you have at any time by accessing our livechat.
4. Freebets are credited within 24 hours after the request has been made by email, or instantly if requested by livechat.
5. Only tickets with total odds greater than 1.50 (on singles) and 1.30 (for each event in a combo) count for the wagering. System bets, promo cash bets and void bets do not count for the wagering.
6. For customers betting in other currencies, the values of the first deposit bonus are: USD - $30 (600 Offside points needed), Bulgarian Leva – 50 ( 1000 Offsidepoints needed), Russian Roubles – 1000 (20 000 Offsidepoints needed), Romanian New Lei – 100 (2000 Offsidepoints needed).
7. The entire value of the freebet must be played in one bet. Freebets must be used within 30 days.
8. There is no fixed time limit in which you have to reach 500 OffsidePoints. You can ask for the bonus at any time.
9. General bonuses terms and conditions apply.
10. Have fun.