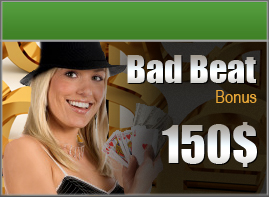 "Bad Beat" Bonus
If you're holding a top hand and lady luck decides to go and powder her nose at showdown, then don't worry because even if you lose, you win with our "Bad Beat" bonus! If you're playing a real-money Texas Hold'em ring game and you lose at showdown with a hand of AAAKK or more, then you'll be able to claim a "Bad Beat" bonus payout.
Terms and Conditions:
At the moment only players with a hand AAAKK or more are able to claim a payout.

Offer is available only for Texas Hold'em real money ring games with blinds not less than $0.50/1.00, except tournaments. Incentive prizes: $25 for tables with blinds $0.10-$0.20 & $0.25-$0.50, $10 for tables with blinds below $0.10-$0.20.

3 or more players must reach the flop in the hand for which the claim is made.

Offer is only available for players who deposited money on their account.

Both pocket cards must be used in both the winning and losing hand.

Only one Bad Beat Bonus per day can be claimed.

Bad Beat Bonus will be given to the highest losing hand during the day (server time zone from 00:00:00 to 23:59:59. Server time = -2 Moscow Time Zone, -1 Kiev Time Zone...)

In the event that there is more than one qualifying hand in any dealt hand, the highest losing hand will receive the bonanza payment.

Players must play their hands independently and cannot tell opponents how to act or reveal their hand to other players. Players in violation of this will not be eligible for the bonus payment and their claim rejected.

To receive this bonus, you must send an email to

[email protected]

, in next 24 hours and must include the relevant hand ID to be considered.

Bonus Payment will be paid to the winner, and Offsidebet reserves the right to use winner's nickname on the web page.

Bonus amounts can be withdrawn only after the player has generated 10 OPP for each $1 bonus. Example - 1000 OPP generated for a $100 bonus.

This offer is not available for clients from Moldova, Russia, Ukraine, Belarus and Kazakhstan(amendment done on 01.03.2015).

By participating in this promotion players are confirm that they have read and accept terms and conditions.

Offsidebet Poker reserves the right to change and/or stop this promotion.