Play Free Oklahoma Gin!
Oklahoma Gin (a variation of Gin Rummy) is probably one of the most famous members of the family of Rummy games. The history of the game dates back to 19th century New-York. Oklahoma Gin shares some basic characteristics with Gin Rummy and other Rummy games, but also has unique rules that set it apart from other Rummy card games.
We have developed an application with advanced online Rummy technology. Inside the Rummy rooms, players are able to experience real multi-player online Oklahoma Gin game sessions of up to four players at a time. Players can easily navigate through our games lobby and find the table they are looking for. A major part of our free Rummy application's charm is derived from its great social characteristics. We designed our Oklahoma Gin and other Rummy games rooms in a manner that provides players with the game's real-life fun and exciting atmosphere.
Oklahoma fans are invited to download our software for free and enjoy interacting with other players as well as enjoy the various card game versions without having to play for real money or disclose their personal details. New players receive a practicebalance of $500 that can be recharged with a few clicks. The virtual balance can be recharged over and over again, so you can enjoy playing free Oklahoma Gin for an unlimited time. Players can also choose whether to play the games using cards or tiles once they have registered an account. Once you feel that you are skilled enough to play for real money, you can make you first deposit and compete for wonderful prizes. It is also important to stress that depositing members are always able to play for both real or practice money.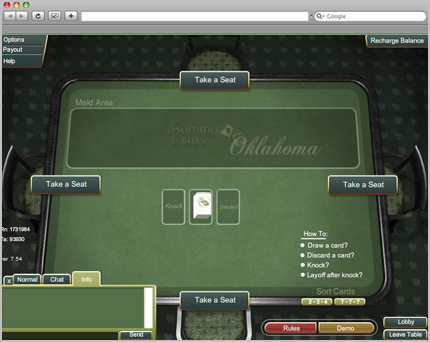 Now is the time to download the application for free. After youget to know the games and options you can start playing in exciting multi table online Oklahoma Gin tournaments with attractive cash prizes!