Poker Tables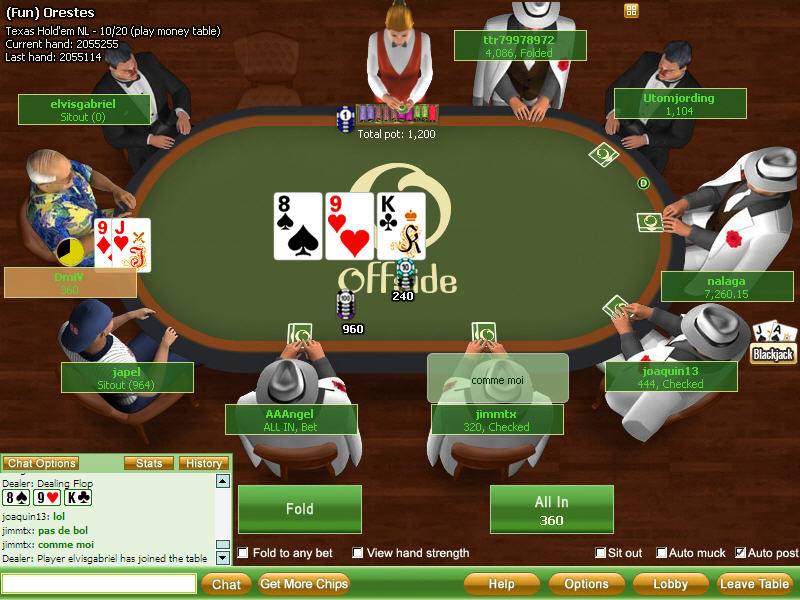 (Fun) "Turbo" Fornax – name of the table

Texas Holdem NL – type of the poker game

50/100 - amount

s of the small and big blinds

Play money table, real money table

- type of game (Play Money is play for fun, Real Money - a game with real cash)

Сurrent hand

- the current hand (deal) number

Last hand

- the previous hand (deal) number
Тotal pot - the amount of all bets placed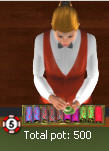 Your name

The value of your

chips

Last Bet
Information About Other Players
Name of the player

The value of the

chips

Last

Action

Sit-out

FOLD, Folded

CHECK, Checked

BET, Bet

CALL, Called

RAISE, Raised

ALL IN, All in

The winning player is marked with WINNER.
Community

cards

(a Flop in the example)

34 – the

current bet

val

u

e
Chat options

- you can customize your chat settings through this button

Stats

- your personal statistics

History

- history of previous hands

Chat button

- used to send a message in the chat. Please, only use English language in chat.
2 – lowest possible bet in the round

Scale for increasing the bet

178 – maximum bet in the round

Window for manually entering the bet

Fold

Check

Bet

All in

Fold to

any bet

- reject any bet regardless of other players' actions. If this option is not selected you will be presented with all possible options. Use this option only if you want to check on all bets during the game.

View hand strength

Sit out

Auto muck

- automatically hides your cards at the showdown. If this option has not been selected your cards will be revealed at showdown.

Auto post

- automatically place blind bets. If this option has not been selected you will be able to either place blinds or skip a hand.