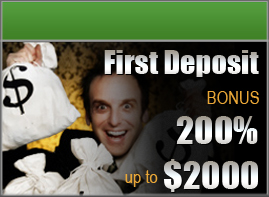 200% Bonus for First Deposit
Place your first deposit to Offsidebet Poker and you will get up to $2000 to your account.
*THE OFFER IS NO LONGER AVAILABLE*.
Players who deposit their First Deposit will receive a bonus up to $2000. Bonuses will be available after the activation confirmation. Players can check "My Account" page to see the status of their Bonuses.
Terms and Conditions:
This offer is only valid to all players with open accounts for real money games.

There is only one bonus per player, is permitted, regardless the deposited amount.

This offer is only valid for depositing players making their FIRST deposit.

The maximum amount of bonus is limited to $2000.

Each player may register only one account.

The First Deposit Signup Bonus is released to players as they earn OffsidebetPP points at ring games and tournaments. For more information about OffsidebetPP points and how to view them please check "My Account" section of Offsidebet Poker.

At ring games, Points are awarded to players for each hand in which they participate, as long as the hand is raked, no matter whether the player contributed to the pot by placing a blind or a bet, or whether the player folded. Points are also awarded based on the fees paid by the player when buying-in to a tournament.

Players with VIP Level 2, VIP Level 3, VIP Level 4, VIP Level 5, and VIP Level 6 will earn Points faster than players with VIP Level 1. For information about Offsidebet Poker's VIP Club, please click here.

Points are awarded according to the rake taken at ring games as listed in the following table:


For example: for every 1000 Points you will get $10 Bonus. A player who has earned 900 Points – will need to earn another 100 points to receive a bonus payment.

Players will continue to accumulate Points as they play, and further releases of bonuses will be made automatically.


Bonus money will be released to a player's account automatically as they earn Points. Players can check the "My Account" page to see their pending Bonus Balance and their Points Balance.

Players who deposit in national currencies will receive their bonuses according to the maximum USD amount, converted automatically into their own currencies.

Players qualifying for this unique offer have 90 days to accumulate the necessary Points entitling them to their First Deposit Bonus.


Participating in this offer means, that player is read and agrees with terms and conditions.